Talented artists from the Province of Rizal are currently preparing for their four-man show exhibit at the famous Art Asia Gallery in SM Megamall in Mandaluyong City.
The B.R.A.D. Art Exhibit is Titled "Heart", the four talented artists will showcase their new artworks and it will open on February 8-22, 2022.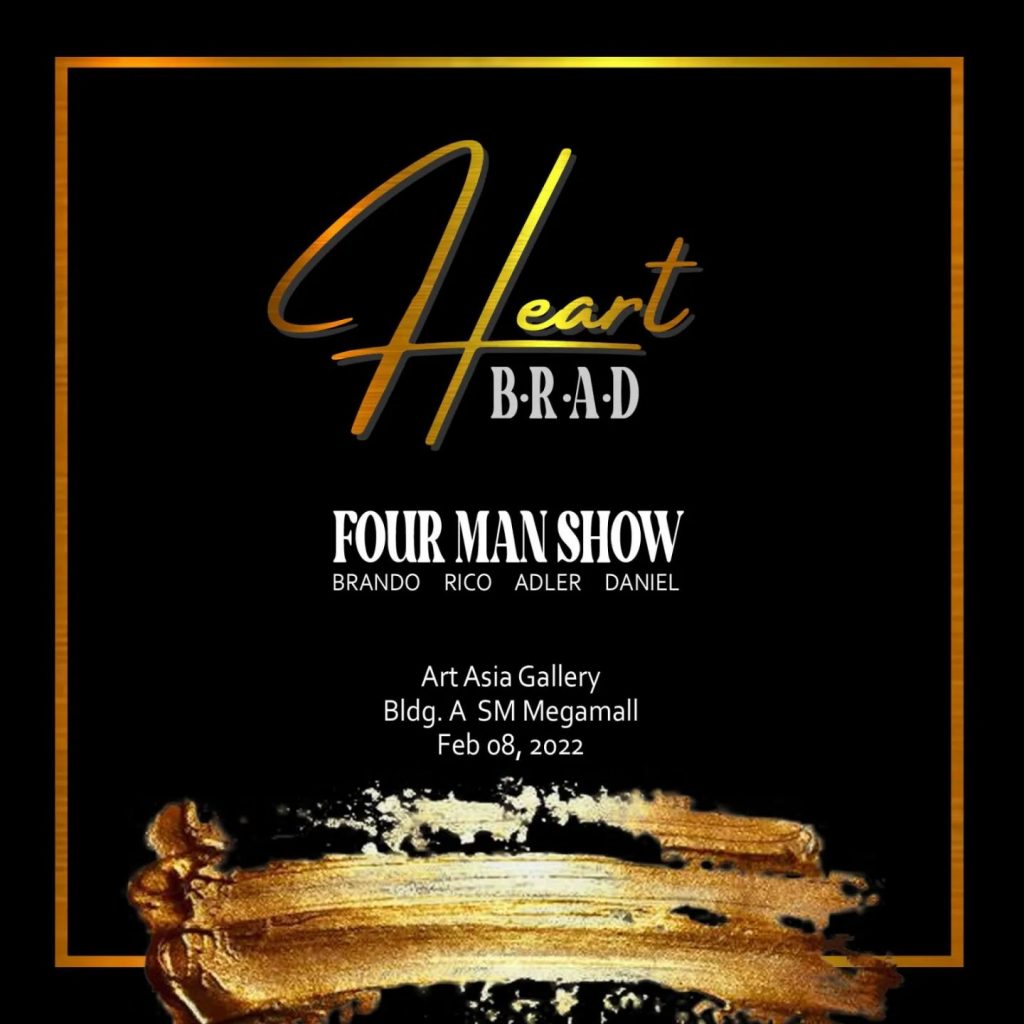 Brando Limon Bati, Neptali "Rico" Aunzo, Adler Llagas, and Daniel Dumaguit were, first and foremost, artists who later became friends because of their trade. 
Known to the artistic world as B.R.A.D. it was the owner of the famous restaurant in Silang, Cavite – Ric Gemora Hernandéz – who christened the group BRAD, an acronym of the artists' first names: B for Brando; R for Rico; A for Adler; and D for Daniel. Their informal group was born during the group exhibition organized by the Daloy-Likha International Arts and Nature Society, Inc., international art and environmental organization based in Lucban, Quezon, in partnership with Ricardo's Coffee + Classic Cuisine, before the establishment of its art gallery, now known as Ricardo's Galeria Al Fresco, on May 1st to 16th, 2021.
During that time, executives from the clothing brand, Obra ni Juan were there who connected them to the management of ARTablado, an artistic space owned and managed by Robinsons Land. B.R.AD. was then formally introduced to the general public with their 4-man show titled "BANGON! Ikaw. Ako. Tayo", which runs from October 16th to November 4th. This show, according to its organizers, aimed "to inspire people to get up, work together and reach for their dreams," as the global pandemic hit everybody to their core. 
According to B.R.A.D., the group wants to promote local tourism and also to accommodate and help other artists, new and mid-career, with their artistic careers. It was their vision to create not a formal group, but friendship and brotherhood among artists, helping one another to grow as artists and thrive with their careers. This having said, B.R.A.D. indeed is the appropriate name for the group for it carries with it the vision and noble mission of these artists, all hailing from Rizal Province. (Written by Noel Sales Barcelona)