Daniela Bessia — an Argentinean singer who originally came to China to study the language — has made quite a name for herself here. She sings in Chinese, appears frequently on television shows, has a cooking show in the works, and even a documentary!
Five years ago, Bessia was in Buenos Aires studying Piano. That's when she got a chance to host a Spring Festival Gala for the Chinese Embassy in the capital's Chinatown. That performance earned her a one-year scholarship to study Chinese in Shanghai.
​But, after coming to Shanghai, her passion for music caught the attention of producers of the reality show 'China's Got Talent' – Season Three.
Bessia opened the show with its former champion Auntie Cauliflower, singing the famous Chinese folk song 'Molihua', which means 'Jasmine flower'. It was the first Chinese song Bessia learned.
«I remembered when I started to study 'Molihua'. The Chinese music is so different from our music. You have like five tones. So for us to do like this is really difficult. It took me a long time to sing these five tones comfortably. And another thing is we have the crescendo, in Chinese maybe no. Everything is different,» Bessia said.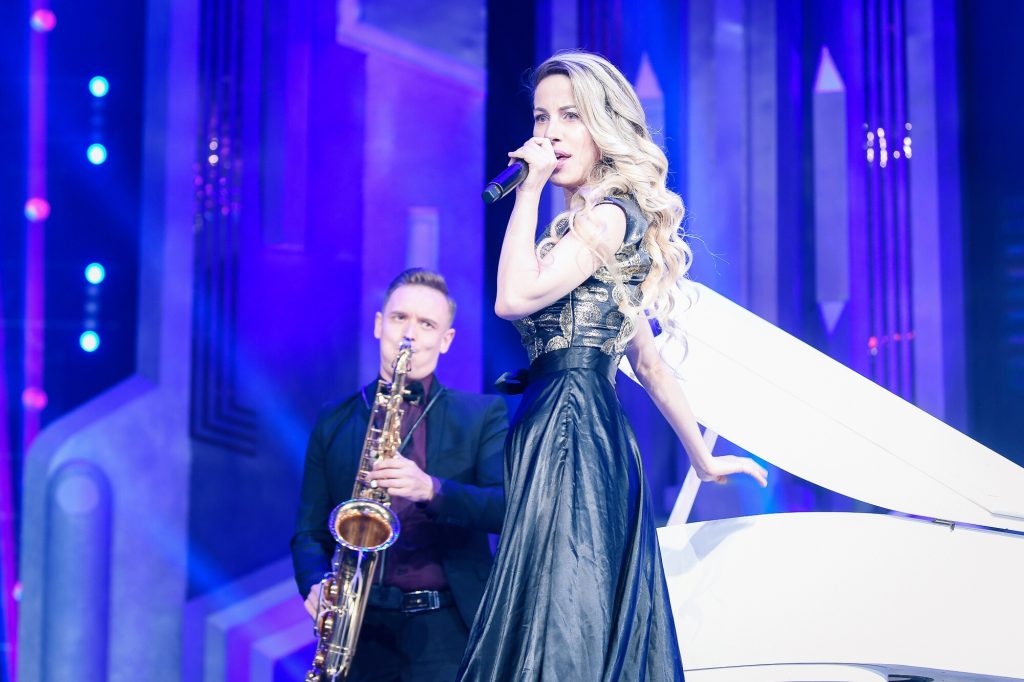 Bessia didn't just have to sing well on the show, she had to pick up Chinese in a short time to communicate with the judges. She still remembers the first time she was singing 'Molihua' in a competition.
I remembered after I finished the singing, the judge, he asked me 'Ok, do you know what's the meaning of Molihua in Chinese?' as I was singing 'Molihua'. And I didn't know why he was asking me and I answered nothing. And it was like, «Man I'm asking you what's the meaning of the song?» «I don't know! I just learned the song!» And everybody around me… Because there were all the competitors from all the countries. And I brought a beautiful red flower in my hair. All of them said, «It's the flower. What's the meaning of Molihua? The flower! The flower,» she said.
Bessia now sings regularly in Chinese, from folk songs to pop hits. She also learned how to play the Guzheng, a traditional Chinese musical instrument.
When her one-year scholarship came to an end, Bessia decided to give up her university course in Argentina, and settled down in Shanghai. As her fame grew, she received more offers to perform on TV or at live shows.
She also became a regular guest on a TV show on Channel Young, introducing her country's culture. «Anda is really lovable. Like other Argentineans, she's very hot. But she doesn't show off. She's friendly and kind to every one of us and our guests. Every time when we finished shooting, she came to me and asked about her performance, if there was anything she could do better. Before filming, she will discuss with us what culture she would introduce on the show and how to present it in a better way. She cooked lots of Argentinean cuisine on our show. She's really a hard working expat,» said Mimi Sung, director of «We Are Family» Show.
«The first time I met with Anda, it was like 'Wow! What a pretty girl!' She speaks really nice Chinese and is always welcoming. We can communicate with each other fluently. I think that's because she has been a long-time resident in China. She is really friendly to Chinese people. And when I heard her Chinese song, it was another Wow! When she's singing on stage, if you close your eyes, you can hardly imagine she is a foreigner. She's really a veteran on stage,» said Ping An, a singer.
Besides singing, Bessia writes her own songs. With the help of a friend, she made a Chinese version of one of her original works. «The translation is 'Dance for Love'. And I love the meaning, because in my life I always try to be happy, everything to be nice, relaxed. And wherever I go, I don't have any problem and trouble. So 'Dance for Love' is perfect for me,» Bessia said.
Bessia's passionate and inspiring performances have entertained viewers and brought a deeper understanding of Latin culture to Chinese people.
This year, she has been selected by CCTV's Spanish channel to host an upcoming cooking show. She was also invited to film a documentary program about Argentina for a Shanghai TV station. But she says she wants to spend more time on her own music.
Checkout the recent issue of GANAP Magazine featuring Daniela Bessia https://www.magcloud.com/browse/issue/2279983