Bisbee, Arizona: It's Quirky, It's Artsy, It's Funky, and It's a Unique Travel Destination for Family & Friends.

Photo by: David Day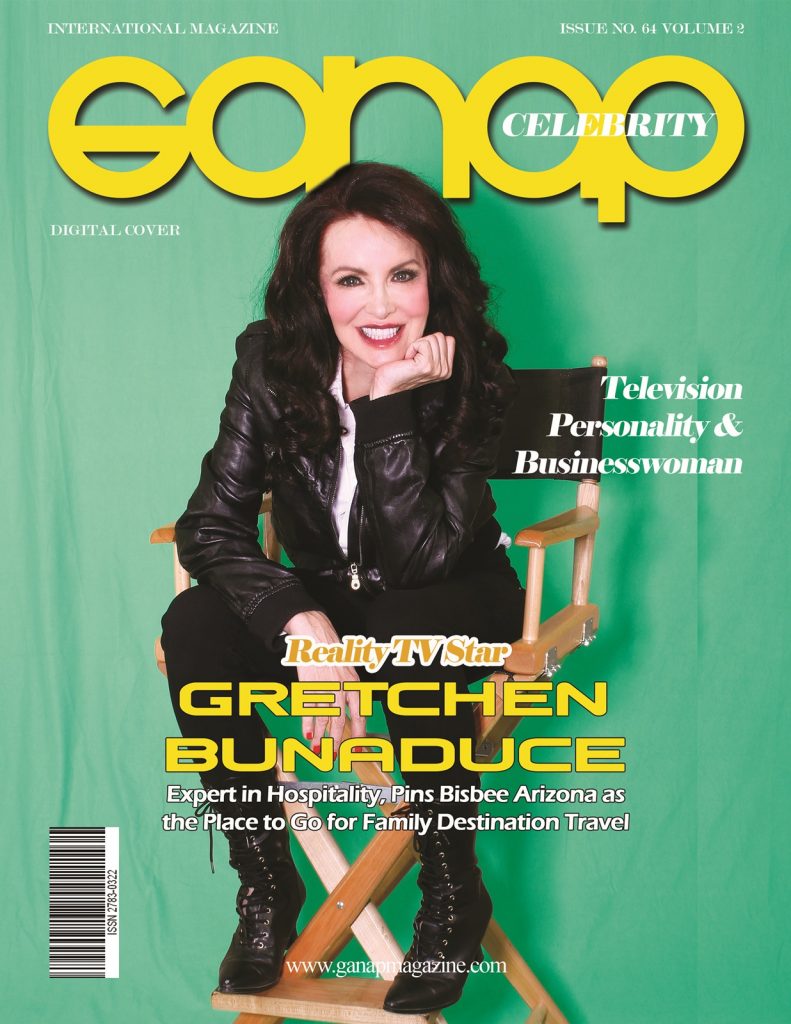 Makeup Artists: Sharon Tabb with Puspa Lohmeyer
Photography Puspa Lohmeyer
We had the opportunity to speak with Reality TV Star Gretchen Bonaduce about why she chose to invest in Bisbee.
Reality Star Gretchen Bonaduce, an expert in Hospitality, pins Bisbee, Arizona, as The Place to Go For Family Destination Travel. Gretchen Bonaduce is a successful Television Personality, Author, Producer, and now Owner/Founder of Greenway Manor, Hacienda del Avion and co-owner Le Cornucopia Cafe. Celebrities can fly directly into her hangars at the Hotel Hacienda del Avion, a luxury five – bedroom, 3-and-a-half-bath custom home built in 2005 available for private short-term and long-term rentals for up to 10 guests. Equipped with a full-blown pub, a four-car garage and a 50×50 attached hangar, the property is adjacent to the Bisbee Airport, where her Rock Star friends can fly into and park their private jets; it sits on three landscaped acres and is located 8 miles of Downtown Bisbee. Greenway Manor rooms are themed after Rock Stars like The Beatles, Elvis, and Rolling Stones and are known to be haunted. Gretchen is co-owner in the  restaurant Le Cornucopia Cafe which does the best  Brunch in town with signature mimosas and their take on Eggs Benedict Huevos  Magdalena. Lunch is served  daily and has a fantastic  award-winning meatloaf sandwich.  Le Cornucopia Cafe has  4.5 stars on Tripadvisor. 
Bisbee, Arizona, is popular for several quirky events throughout the year. In Nov. is the Mariachi Festival, and in October every year, runners come to prepare for the Boston Marathon as a tradition and participate in the Bisbee 1000, The Great Stair Climb, which is one of the most challenging events in the world, Bisbee Pride, Copper City Classic Vintage Baseball Tournament and more that keep Gretchen very busy planning for her guests. The Bisbee Mining & Historical Museum offers Unusual Museum Adventures. The Museum takes you and your family back in time to the days of the Arizona Territory, telling the story of a copper mining town's role in the industrialization of America. They are an Affiliate of the Smithsonian Institution.
Gretchen said she highly recommends her guests for dinner to go to Cafe Roka, Taqueria Outlaw, The Royal, or the Copper Pig in Warren. She loves the Pizza at Screaming Banshees Pizza; if you're in the mood for Mexican, try Countessa's Mexican. Thuy's Noodle Shop is one of her favorites. Suppose you're looking for a great diner for breakfast. Dots Diner or Bisbee Breakfast Club. We had several questions for Gretchen for our readers.
1. What will bring a family together in Bisbee?
Given one's busy work and school schedules, families want a trip where they can spend time together. Bisbee is a unique destination perfectly suited for families. The historical, picturesque town has much to offer. Families will, in particular, enjoy the Bisbee mining museum and also the Copper Queen mine tour. You take a train deep inside the mine, just as the miners did when the mine was open! The Artemiza Foundation features contemporary graffiti and street art, where you can see the work of such artists as Banksy, Warhol, Muckrock, Mattie, and Keith Harring, for example.  
2. What connection to wildlife and nature can a family experience in Bisbee?
It is quite possible that you will encounter wild javelins, coyotes, deer, hawks and many other types of animals that are unique to our desert environment. There are several trails around Bisbee; you can take a beautiful hike with your family. You can witness the arrival of the Sandhill Cranes from Nov to March in Whitewater, 30 minutes from Bisbee. In March, Bisbee hosts a fun parade with the return of the Turkey vultures. 
3. What activities will spark families' curiosity?
In Bisbee, we host several really fun events for families. In July, Bisbee hosts the Coaster Races, where soap box derbies like cars race from Tombstone Canyon through Old Bisbee. April is always the Alice in Bisbeeland celebration, and in August, the annual Pirate Weekend, where the town is covered in Pirates and Mermaids. We also have a Day of the Dead parade through Old Bisbee as well. The Warren Ball Park hosts baseball games with the players dressed in period baseball uniforms. Bring your own picnic for that one!
4. What new foods can kids experience?
Cafe Roka is rated number one for dinner. It features food for a more sophisticated palate. Great place for a Mom and Dad date night. Screaming Banshee Pizza is always a favorite with the kiddos, and when you finish your meal, walk down Old B for dessert to our gelato shop Pussycat Gelato or grab a piece of homemade pie or a cookie from Le Cornucopia Cafe.  
5. What exposure for kids is there for possible new cultures and perspectives?
There is so much to learn about the southwest and mining in our town. Also, stories about our Native American indigenous people. Take a trip over the border to Naco, Mexico, or Aqua Prieta, both only less than 30 minutes away. Our town was just awarded a massive grant to restore the Buffalo Soldier Camp, Camp Naco. Exciting to see the restoration happening as we speak
6. Can families learn Life skills?
I think people are hungry to travel with families to educational spots. Seriously, how many water parks can you go to? You won't be bored in Bisbee.  
7. What activities will enhance kids' education?
I also recommend the Lavender Jeep Tours. Super informative about early Bisbee history. Your kids might also enjoy one of the many ghost tours you can talk about in the evening.  
8. Is it a good destination to meet new people as a family?
We have visitors from all over the world in Bisbee. We have many people traveling south from Phoenix and Tucson to escape the extreme heat. Our elevation keeps us 10 to 20 degrees cooler than those two cities, generally speaking, during the summer.  
9. What is your suggestion for fun as a family?
I would stay at: The Rock and Roll Greenway Manor. Each room is dedicated to a rock artist and has a record player and records in each room. Then: Breakfast at either the Bisbee Breakfast Club, the Grand or the Quarry. On the weekends, a must is the Shady Dell trailer park and Dot's Diner. Take a Lavender Jeep tour while it is still cooler in the morning, or rent an electric bike from B Active Bisbee. Lunch at Le Cornucopia Cafe is rated number one by Trip Advisor, with homemade soups, quiche and sandwiches as it gets warmer during the day a great time to go into the mine tour as it is very cool down there year-round. I would follow that with a tour of the Mining and Historical Museum and the Muheim house. Before dusk, take a nice hike through our beautiful Chiricahua Mountains. Dinner Roka (Thurs through Sat), Copper Pig (if Sunday through Wednesday night) or the Table. I would certainly cap off the evening hitting one of our local bars like The Grand, The Copper Queen or my favorite, The Hitching Post, for some great local music. 
You can Follow Gretchen Via Facebook & Instagram, and below are the links to her two hotels and restaurant.
Facebook: https://www.facebook.com/gretchen.bonaduce/ Instagram:https://www.instagram.com/gretchenbonaduce/?hl=en 
Hacienda del Avion:https://www.haciendadelavion.com/  
Greenway Manor:https://www.booking.com/hotel/us/greenway-manor.htm
Le Cornucopia Cafe: https://instagram.com/lecornucopiacafe?igshid=ZDg1NjBiNjg= 
10. Below are the links to all of Gretchen's suggested places in Bisbee! 
https://friendsofwarrenballpark.com/
https://caferoka.com/
https://www.yelp.com/biz/screaming-banshee-pizza-bisbee https://www.archaeologysouthwest.org/projects/naco/
https://lavenderjeeptours.com/
https://www.oldbisbeeghosttour.com
https://www.bisbeegrandhotel.com/
https://www.bisbeebreakfastclub.com/
https://www.facebook.com/the.quarry.bisbee
https://thecopperpigbisbee.com/contact-us
https://www.hotels.com/ho395646/copper-queen-hotel-bisbee-united-states-of-america/?dateless=true&locale=en_US&siteid=300000001&gclid=0b2d8c9781f0151990d4e8289c43b63d&gclsrc=3p.ds&&semcid=HCOM-US.UB.BING.PT-c-EN.HOTEL&
https://hitchingpostbisbee.com/
https://www.bing.com/travel/hotels/detail?q=Greenway+Manor&id=YN873x2851326210839040051&hname=Greenway+Manor&loc=Bisbee%2C+AZ%2C+US&displaytext=Bisbee%2C+AZ%2C+US&lat=31.417322&lon=-109.8 
http://www.bisbeetable.com/ 
 https://www.airbnb.com/rooms/45257367?source_impression_id=p3_1690246862_%2BU1gjfsEo4o4T2dT