This coming February 13 and 20 (Sundays) from 8:00AM to 5:00PM, the Quezon City Photo Club (QCPC) will be celebrating its 6th Year Anniversary in the Amphitheater, Ninoy Aquino Parks and Wildlife (NAPWC), Quezon City. Founded on February 12, 2016, the celebration focuses on promoting 'KAMUNING, AS THE FASHION CAPITAL OF QUEZON CITY."
Mr. Jeremiah Pong Ching, President of Retailers of Kamuning Market Association is in partnership with QCPC in promoting KAMUNING COLLECTION made by various Kamuning Fashion Designers and artisans.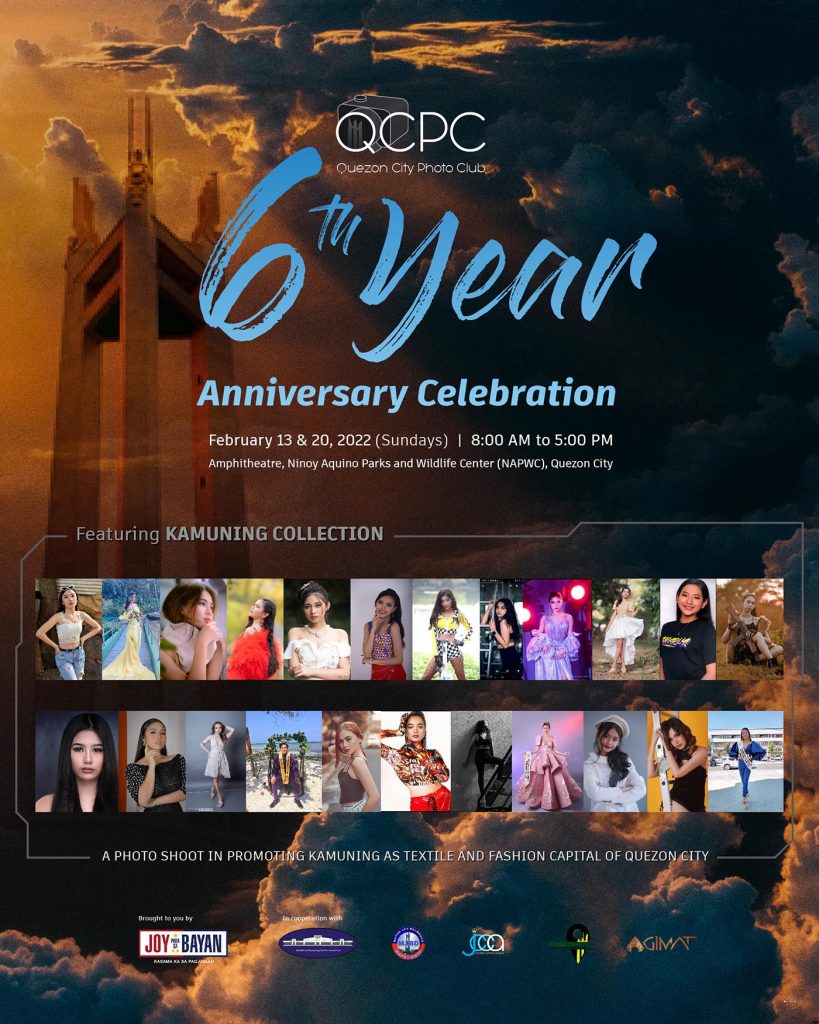 Kamuning is not only prominent for its Kamuning Bakery, it is also the home of textile, artisans and fashion. Quezon City, indeed, is known for many things. Apart from being home to the best universities in the country (UP and Ateneo de Manila among them), the best hospitals (Heart Center, St. Luke's Medical Center, etc.), and all the TV stations, it is also home to many of the country's fashion designers, such as Randy Ortiz, Rudy Fuentes and Renee Salud.
It is where former Paris-based designer Roy Gonzales established his local practice when he came home, and where the careers of fashion icons Ramon Valera and Joe Salazar first blossomed. So it's no surprise that QC is fast becoming the Fashion City too. Mushrooming along the long stretch of Kamias and Kamuning Roads alone are ateliers of both new and established names. (Gladys Andre D. Duenas. Philstar Global. 2004).
Quezon City's designers were tapped during the pageant to reinvigorate the fashion industry in 2004 and 24 of them came together to doll up the candidates using abel Iloco fabric: Peter Lim, Paul Cabral, Vivo Nazareth, Larry Espinosa, Eddie Baddeo, Frederick Alba, Bumbee Ramos, Paola Angela, Jay Sustiguer, Boying Eustaquio, Dennis Martin, Edwin Uy, Jontie Martinez, Eddie Castro, Shannon Pamaong, Ramon Depositario, Jun Halili, Edgar San Diego, Edgar Madamba, Joel Pros, Francis Calaquian, Arielle Agasang, Ronaldo Arnaldo, and Fanny Serrano. (Gladys Andre D. Duenas. Philstar Global. 2004).
The city government, long supportive of medium-scale industries, now regard the fashion industry as a source of pride, and may boost tourism. After all, the industry creates jobs for seamstresses, cutters, and fabric suppliers.
(*The Quezon City Photo Club (QCPC) activity on February 13 and 20, 2022 (Sundays), from 8:00AM to 5:00PM in Amphitheater, Ninoy Aquino Parks and Wildlife Center (NAPWC) is RSVP, BY INVITATIONS ONLY).